Quality Assurance
---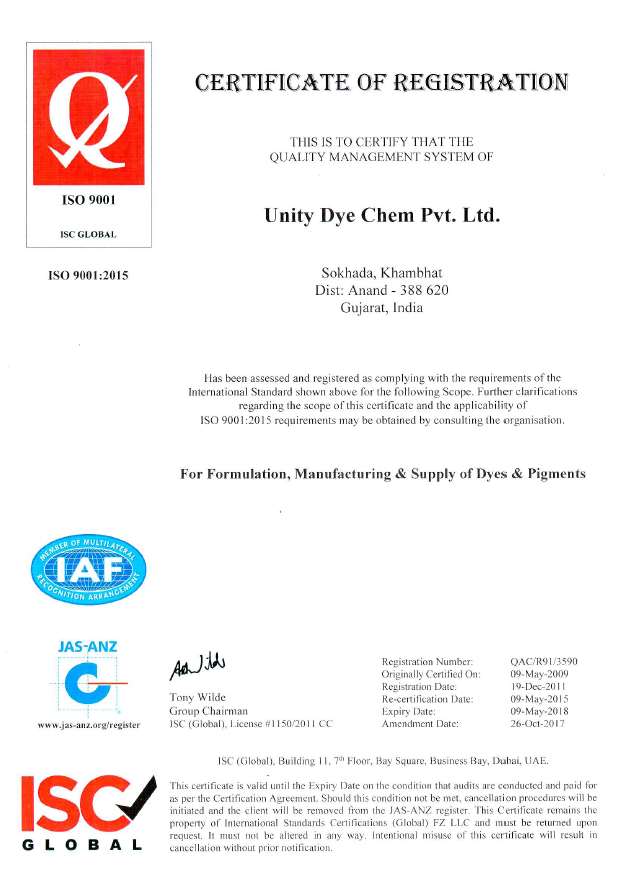 We at Unity Dye Chem Pvt. Ltd. are committed to manufacture and supply consistent Quality product at every time as concern to customer requirement and complying with statutory and regulatory requirement We aim to achieve total Customer satisfaction.
We are ISO 9001:2015 certified company. We are committed for continuous improvement in all aspects of Business by establishing maintaining quality management systems conforming to customer requirement as well as to meet International Standard.
BROADLY PUT, UNITY'S RESEARCH OBJECTIVES ARE :-
Achieve continual improvement in product quality through improvements in manufacturing technology and processes. Attain low manufacturing costs through strategic process improvements. Conduct innovative, exploratory research to develop new product lines that are optimally environment-friendly.
We are used below equipments to maintain quality of our product in our lab.
1) Vibro Shaker
2) Auto Applicator
3) Two Roll Mill
4) Hydraulic Press
5) Injection Moulding Machine
6) Mars Mill
7) Basket Mill
8) Spectro Phote Meter
9) Muffle Furnace
10) Hagman Gauge